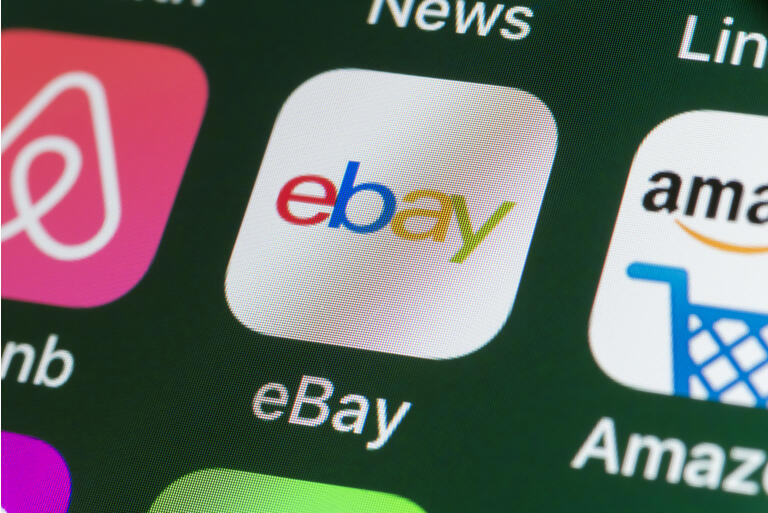 Choppy markets require creative thinking above all, and choosing stocks that many investors think have moved beyond their heyday. With the market adopting more of a value-conscious bent over the past few months, I think eBay (EBAY) has begun to shine even more as a candidate for outperformance in 2022.
At the moment, trading in the low $60s, shares of eBay have declined 5% since the start of January, and more than 20% relative to highs above $80 notched in November, before it began decaying alongside many other tech stocks. This dip, in my view, gives investors a great opportunity to re-assess this legacy e-commerce titan.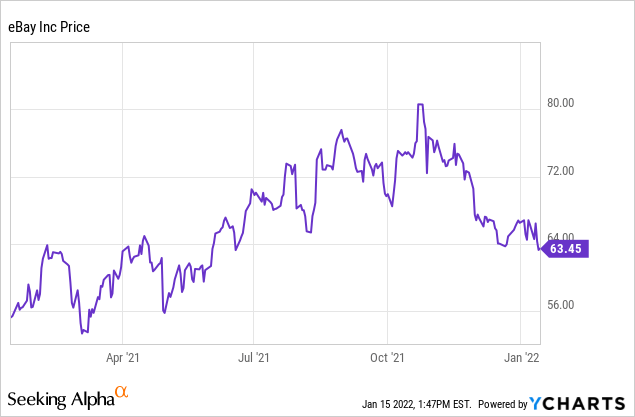 I have not always been positive on eBay. For many years I viewed the stock as simply a legacy e-commerce play past its expiration date, destined to be overtaken and reduced to nothing by counterparts like Amazon (AMZN).
Then, the pandemic breathed second life into eBay. Revenue and GMV jumped to growth rates not seen in years, thanks to buyers' shift to online channels. eBay's transactions grew, particularly in niche categories like collectibles in which Amazon has a far thinner presence. And though now eBay's GMV is down versus pandemic-level heights, the company is still growing revenue thanks to its shift toward managed payments, giving eBay a far expanded take rate and more monetization over its end-to-end customer transactions.
There's no doubt that eBay is a collection of mixed signals. In spite of the revenue growth, investors are understandably nervous about the fact that eBay's active buyer base has declined over the past several quarters as the pandemic recedes into the background. A marketplace like eBay, above all, requires critical mass, and the minute this fades, eBay ceases to become relevant. We note, however, that GMV is still up versus 2019 levels.
What keeps me appealed to eBay in particular, however, is its value. Wall Street analysts are currently expecting eBay to generate $4.51 in EPS this year (data from Yahoo Finance), representing 14% y/y EPS growth on 6% y/y expected revenue growth to $11.0 billion. At current share prices near $63, this indicates that eBay is trading at just a 14.1x forward P/E ratio, which represents a ~50% discount to the S&P 500's current forward P/E at ~21x. Sure, there's certainly fundamental risk in eBay as a legacy e-commerce stock: but is that risk worth the wide valuation disparity versus the broader market? In my view, the cheapness of eBay's stock more than makes up for the potential risks.
Another aspect to consider is how shareholder-friendly eBay has been of late. eBay is currently yielding ~1.1%, which isn't impressive on its own, but the company also has $5 billion remaining on its stock buyback authorization – which, at eBay's current market cap of ~$40 billion, covers a healthy ~12% of eBay's market cap. To me, the combination of capital returns plus a cheap valuation in a market that has shunned high-valuation growth stocks will favor eBay this year.
In other words, take advantage of the dip in eBay stock as a buying opportunity. I see eBay outperforming the markets over a 9-12 month timeframe. Buy and hold onto eBay until it hits a ~17x forward P/E, representing a $78 price target (~25% gains from current levels).
Q3 download
Let's now go through some of eBay's most recent fundamental highlights. As I said before, it's not all roses for eBay, and some of the company's key metrics are certainly telling more of a mixed-bag story.
For one, eBay's GMV is in decline. Total GMV ("gross merchandise value"), which represents the total dollar amount of transactions on the eBay platform, declined -12% y/y on a constant-currency basis to $19.45 billion. The number of items sold on the platform, meanwhile, dropped -21% y/y. This is to be expected, however, as last year's pandemic proved to be a near-term peak for e-commerce activity. We note that in spite of being down versus 2020, eBay's Q3 GMV was still up 9% versus 2019.
Perhaps even more concerning to eBay investors, however, is the fact that active buyers have slipped as well. Active buyers peaked at 166 million in Q1 of this year, up 8% y/y – then proceeded to slip. eBay shed 5 million active buyers in Q3, ending the quarter at 154 million actives – down -5% y/y. We hope that the company will be able to stabilize active buyers in the ~150 million range.
Revenue, however, was a standout. In spite of declining GMV growth, the company saw revenue grow 11% y/y to $2.50 billion, beating Wall Street's expectations of $2.45 billion (+5% y/y) by quite a substantial margin. As can be seen above, the primary driver here was a significant lift in take rates (the amount that eBay earns per dollar of GMV transaction) to 12.1%, 240bps higher than 9.7% in the year-ago quarter.
This is a result of eBay's push toward managed payments. eBay now handles and collects fees for payment processing on 90% of the transactions on its platform. Aside from greater monetization for eBay, the company notes that handling payments in-house has also removed friction in the seller experience.
eBay has also continued to drive smaller innovations that have built up loyalty among its core user group. For example, the company recently released seller coupons, which have helped to drive customer loyalty to certain power sellers. Since launching in early 2021, 2.5 million buyers have made repeat purchases from sellers utilizing seller coupons.
In addition, eBay has continued to showcase dominance in certain niche categories that Amazon and other online sellers are lacking. eBay has always been a central hub for buying and selling collectibles, and the recent mania around trading cards has been a major driver for growth for eBay. Per CEO Jamie Iannone's prepared remarks on the Q3 earnings call:
Another focus category that is driving growth in the U.S. is trading cards, which is growing significantly faster than the total marketplace. In late July, we launched new features, including price guides and collections, which allow trading card enthusiasts to view, manage, and track the value of their portfolios. To date, close to 4 million cards have been added to customer collections.

In addition, close to a quarter of a million buyers have used eBay's newly-launched price guide to visualize the changing value of their favorite trading cards. These features cater to the needs of high-value enthusiasts and are increasing engagement and trust in eBay. The next focus category we're applying the innovation playbook to is motors parts and accessories. [Indiscernible] creating a one-stop shop for vehicles and plus enthusiasts."
eBay has also driven operating expense efficiencies, with total operating expenses of 41.7% of revenue down three points y/y, driven largely by economies of scale in sales and marketing spend. This was slightly offset by the lower margin profile of payments-related revenue. However, eBay's pro forma EPS of $0.90 in the quarter still grew 9% y/y (driven in part by share reduction from eBay's aggressive buybacks), while also beating Wall Street's consensus of $0.88.
Key takeaways
In my view, there's a lot to like about eBay while it's trading at its value-friendly ~14x P/E ratio, bolstered as well by a generous capital returns program. While eBay will never hope to attain close to the dominance of Amazon, it still displays category leadership in certain segments like collectibles, and hopefully stabilization in eBay's y/y GMV and buyer metrics will help restore confidence in this stock.


Read More: eBay Stock Will Deliver Strong Gains In Today's Value-Oriented Market